rain, rain, go away
2001.03.10, hat yai, thailand
a few days ago, after a lazy morning chatting and eating with cal and eden I left on an afternoon bus to Kota Bharu in the far northeast of the peninsula. it was a long trip: first a local bus to Tapah, still in the hills; then a more comfortable bus to Ipoh on the west coast, where I sat for a while and wrote up the first part of this report. the last leg, 7 hours overnight through the jungle from Ipoh to Kota Bharu, was horrible. I was stuck in the far back corner, with no leg room; it was stormy so there was really nothing to see despite an almost full moon; and the driver was insane. I wanted to throttle him.
I got in at 4 am, and took a share-taxi to Kuala Besut to wait for a morning boat to the perhentian islands: I travelled with a german couple and a british guy, and we commiserated about the bad trip. the driver did not take us to Kuala Besut, but rather to another place from which we could get a ferry: we refused to get out of the car, and made him take us to the right place; he got lost 3 times on the way there (he had previously been following another taxi), and in the end I followed the road signs to get us to the right place. he asked for an additional Rm20. we refused.
after another three hour wait, we got in a small speedboat out to the island. during the 30 minute trip it started raining.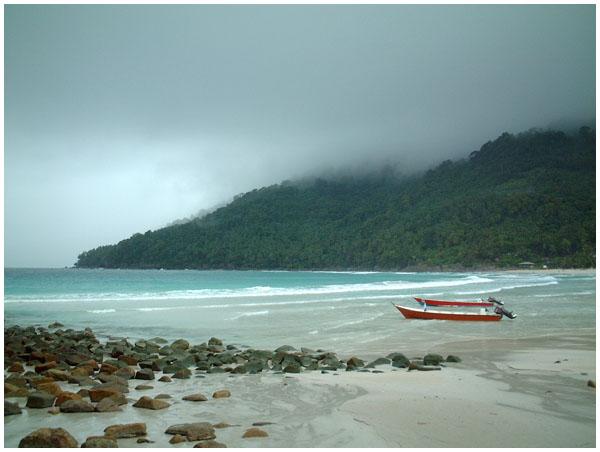 the perhentian islands are beautiful. there is a pair of main islands, kecil and besut, with another few uninhabited islands just off of them: great pillars rising from the ocean and covered with jungle. they have only been opened to tourism for a few years, and they are closed entirely during the monsoon season. they offer great diving, and you reall feel like you 'get away' from everything.
we caught a small taxi boat to shore and landed in coral bay, on pulau perhentian kecil, and took advantage of a brief halt in the rain to walk over the island to long beach. on the way I saw a bloody huge lizard (1 meter plus), eating from a garbage pile. (garbage piles in the jungle are a common if depressing sight.) I walked down the beach, during which time it started to rain again, and got a room in the Moonlight Chalets. I was told that the power was temporarily out, but would be back up soon. Rm25 for a room with my own bathroom, about US$7
at this point it was 8 am, and it was starting to rain harder. I went to blessed sleep, and every time I woke up it was still raining. at around 4 pm, I got a sandwich ("no power, no milkshakes") and waited another hour for the rain to slack off a bit, then took a walk down the beach. it was trashed. the monsoon season is obviously not completely over, and there is all sorts of garbage washed up on the beach: water bottles, cigarette packets, papers, etc. maybe the garbage was produced on the island and washed out of the garbage pits during the storms; or perhaps it is the collected leavings of an entire monsoon season, the crusty ring that humanity leaves around the bathtub of the south china sea.
it stank.
still, I think the islands were beautiful: the tidepools were fascinating, and full of life: my own private discovery channel. there are no roads on the island. with the exception of a path from coral bay to long beach, you can only get from beach to beach via boat. the water was clear, and full of fish that could be seen even from the beach. as we taxied in from the speed boat, you could see coral and fishes under the boat.
it got nice for a bit in the evening, so I walked up the beach again and get dinner at a cafe; I sat next to a guy travelling from italy for a couple of weeks, danilo, and we talked of this and that and the internet and the persistent rain. indeed, shortly after dinner it started raining again; there did not seem to be any nightlife on the island, so I went back to my room. the 'temporary' power outage was long enough for them to be hending out candles, and I noticed that there were candle stubs left over from several previous nights, as well. I got a lot of sleep in that room.
the next morning, danilo showed up and said that he was taking off: according to everyone we both spoke to, the island had been drenched for about a week and is certainly showed no signs of letting up. I decided to give it a miss, and packed my bags so we could make the noon speedboat.
our walk back over the saddle to coral bay was the most wet I have ever gotten in a rainstorm. we were walking up and down creeks, where the path had been the previous day. I imagine it was like the early european explorers of the jungles, except that we did not have 'natives' to carry our bags for us. I would say that of course it is like anyone who has lived in a rainy rainforest, throughout time; but I suspect most of those people were too smart to carry much that could be damaged by the rain.
not that I checked it at the time, but my laptop stopped working completely: there was water in it which drained the battery. my camera survived, thank goodness. all my books have water damage to some degree. every single pair of underwear was soaking.
eventually we got back to the mainland, via slow boat since the speed boat was too full of other people escaping the island. we took a taxi straight to the thai border, 2 hours, and crossed on foot. I had been worried that there would be some trouble at the border, since I was never stamped into malaysia; but the officer obviously got tired of looking for the correctly dated stamp in my passport and just signed me out. we had missed the last train, so we got some food while we waited for a minibus to bring us to Hat Yai. the minibus took four hours, and was almost as bad as the trip to Kota Bharu. it was still raining.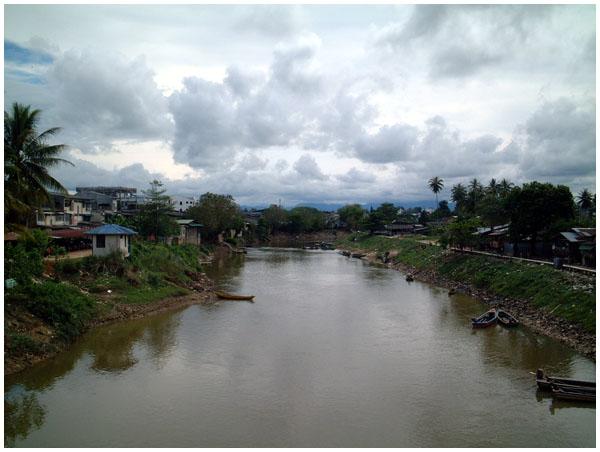 ah, blessed civilization! we checked into a real hotel, the Lassa Guesthouse: showers, air conditioning, comfortable beds! we ventured out to find Hat Yai a nice small city. good food, friendly people, and beer! three cheers for buddhism! well, I guess buddhism doesn't actively encourage the consumption of alcohol, but at least it doesn't discourage it.
I didn't stay up too late last night, and got up early. danilo took off for Krabi in the morning. I decided to stay here to dry out my bag, get my clothes cleaned, catch up on some emails, and generally relax. I think I will head for Krabi tomorrow morning.
it is raining again.