up, up, (urp!)
2001.05.10, TGV between bern, switzerland, and paris, france
the trip from chios to athens was not easy. the ferry ride was 14 hours overnight, and we only had airplane-style seats; all the cabins had been taken by a middle-school class returning from spring break. they, of course, stayed awake all night, not using their cabins. on our deck, people were scattered over the chairs and floor everywhere, like a badly-lit scene from soylent green (soylent greek? souvlaki green?). I spent some time up on top, though it was too cold to sleep there; I was impressed by just how dark it was on that overcast night, and how isolated one would've felt on an ancient sailing boat.
once we settled into athens, it was a lot of fun. çesme had shown us how to relax, and we carried that mood forward with us into the prakla. this twisted, touristy section of athens is built up on the old part of the city, undoubtedly on the ruins of earlier buildings. the streets are filled with restaurants and shops, and, at this time of the year, the crowd seemed mostly local. I was not quite prepared for the leap in prices from turkey, though athens is not bad compared to san francisco or even singapore. I think I set myself up for sticker-shock when I decided to travel east-to-west into europe.
I have new appreciation for the phrase "it's all greek to me." more than in turkey, I had difficulty reading signs, menus, etc. it doesn't actually take very long to learn (or re-learn) the greek alphabet, but the trick is in remembering the differences in pronunciation where the letters look the same as the latin alphabet. to my ear, the overall cadence of the language sounds very much like italian though the words are completely different: like japanese and korean. I heard my friend yasu's name everywhere: it is a greeting.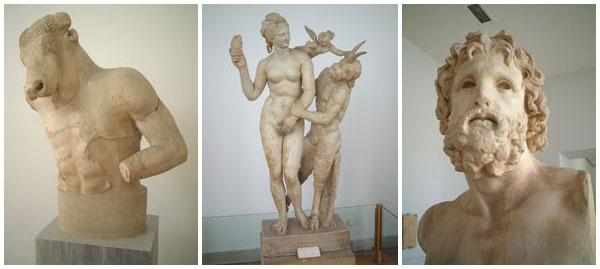 we spent a day sightseeing at a relaxed pace. we started at the archaeological museum, which is dedicated mostly to statuary but also contains a lot of jewelry and pottery from grave sites. unlike the anatolian civilizations museum, there was not much in the way of pre-hellenistic art: just a few early mother-goddess representations and then statues which clearly evolved into the classical style. here, I found my favorite statue so far on the trip: pan, aphrodite, and cupid, in a sort of mythological beauty-and-the-beast pose.
in the late afternoon, we went to the acropolis. the parthenon appears to be in poor shape even after more than 15 years of restoration. pollution is taking its toll, and the detail is fading even on the columns. still, it is impressive. my father mentioned that most of the marble bas reliefs which lined the top of the parthenon are now in london, which will hopefully put the detail work into perspective.

I almost missed my ferry from greece to italy, though I was able to get a last-minute bus to patras and say a very quick goodbye to my father. the patras-ancona ferry was much nicer than that we'd taken from chios to athens, but for some reason there were no airplane-style seats at all. this time, the cabins were all taken by a huge group of slovenian high school students. my american-rock-star hair again served to make an impression, but I have determined that it only does so with high school girls and that could be a dangerous thing.
I arrived in italy on may day, which meant a three-kilometer walk from the port to the station as all the taxi drivers had taken the day off. I got a cheap ticket to milano, but got on the wrong train and ended up getting there faster and with more expense. some taxis were available in milano, at the end of a two-hour queue. by the time I arrived at my friend danilo's apartment, I had been on the road (from athens) for about 33 hours. I am sure my father had a quicker trip from athens to san francisco.
I spent my days in milano visiting the duomo and various museums. the cathedral is impressive, perhaps the largest I've been in besides st. john's in new york. I love that you can climb up to the roof and look out over the city, though unfortunately several close-by buildings have been built up to block the view. there is an incredibly ornate crypt underneath the duomo, full of beautiful ancient wood and marble: it would be the perfect super-villain stronghold, though I suppose that might be construed as heresy. I tried to get into the museum which houses the last supper, but discovered that booking is required several days in advance even in the low season. instead I visited the nearby museum of science and technology, which contains pieces built from the da vinci codices and several examples of his sketches: he was a genius, with humor. though these were only copies, I was able to see an original of one of the very first computing machines, a swiss-made counting machine from 1629.
my favorite museum is actually a set thereof, built into the castle just a few stops from the duomo. it was originally a lombard stronghold, though it has been extended and rebuilt several times since. the exhibits are mostly mediaeval and extremely christian: I told danilo if I saw one more virgin-with-child I would scream. I enjoyed the musical instrument section, with instruments from over the past 500 years, but the best such museum would be one in which you were allowed to play with reproductions of the instruments. overall, there were only a very few classical images, and those very much re-interpreted in a christian context. I find I am drawn to the darker side of christian art: the gargoyles, images of temptation, the seduction of eve. my favorite picture, in the museum of the duomo, was of the cathedral getting hit by a cannon during napoleon's invasion: it was passionately painted, and in modern context shows survival and continuity.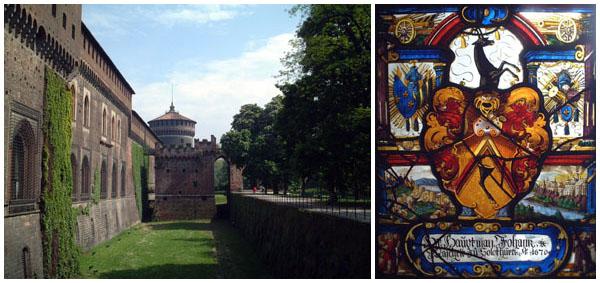 in the evenings, when danilo got off of work, we went out for aperitifs and dinner with friends. I met danilo back in malaysia while he was on vacation. since then, he has changed jobs and moved from london to milano. he is jealous that I am still on vacation two months later! it was excellent to have a place to stay, and a local to show me around the night life. milano is a small city, which I really like, and is very young and fashionable. I felt under-dressed in my three-month-travelling clothes.
after three days in milano, I headed north. I had flirted with the idea of visiting venice for a day, but decided so short a time would be frustrating. besides, everyone says venice is a city for lovers. next time, next time. in any case, the weather was not cooperating, and I entered the alps under heavy rain clouds.
switzerland is stunning, from the moment you cross the border and even in the rain. the climbing tracks pass through deep valleys full of little villages and waterfalls. I took a direct train, which passed under large sections of the mountains rather than climbing over passes, but we still climbed high enough to see an occasional snow bank right off the side of the train. one month ago I was in thailand, which I don't think ever receives snow; now I was in a country which has it year-round.
some facts about the country which I did not previously know: switzerland is not a part of the european union, nor of the united nations; swiss politicians mingle with the general public freely and safely, like normal citizens; although the helvetican confederation has stood for 800+ years, wars have been fought on swiss soil with invading french; the many fountains in swiss towns flow with clean, drinkable water.
I stayed in bern with the torriani family, long friends of my own family. theo has recently retired, and seemed happy to have a companion with a similarly open schedule. twins kim and diego had each spent a year living with my family in san francisco, and it was excellent to see my 'siblings' again. it was truly wonderful to be in a home with a family, eating home-cooked meals for the first time since chinese new year in singapore, sleeping with cats, visiting with grandmothers. it was very easy for the torriani's to convince me to extend my trip a bit, to wait out the overcast weather so I could visit the mountains. diego hinted that I should just stay in switzerland, that it would be easy to find a job in some web-related field.
it is not hard to imagine staying. bern is the capital of switzerland, but it still feels like a very busy small town. the central city still has the layout of the mediaeval high street: the sidewalks run under covered arcades, allowing one to walk along comfortably in the hot summer or snowy winter. the villages were all connected by rail before cars became ubiquitous, so they retain their old centers rather than sprawling out like american suburbs. the train into town from the torriani home leaves every quarter hour and takes nine minutes. exactly.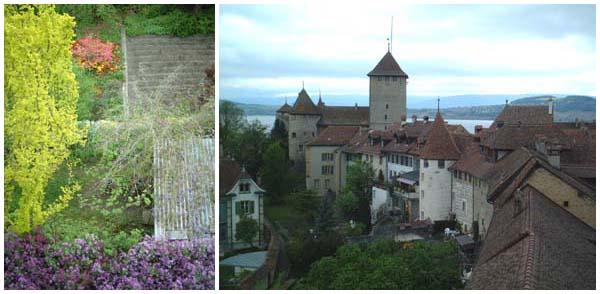 theo was an excellent guide, and over the week we visited several villages and climbed up into the mountains. I met the minister of agriculture in front of the parliamentary building, and later passed the bern county chief of police on the sidewalk. we arrived in mürten on a sunday festival, and I can imagine the street being similarly full on holidays several hundred years ago. there, we climbed the city walls and theo explained how the defending swiss army had fought with little attention to the knightly rules: much like the battles between the english and the scots. rather than having foot soldiers meet mounted troops in the field, the defenders of mürten killed the invading french duke in an early morning raid against the french camp. siege ended.
on the day the weather was supposed to clear, I took an early morning horse ride with kai. I have been wanting to do this at several times along my trip, but it had not yet been easy or convenient. kai's boyfriend runs a stable, however, and she was able to find a 'safe old' mount for me. I would have loved to race along, but even trotting was difficult after so many years out of practice. the morning was overcast, but we had an excellent ride through misty woods. I didn't fall off.

in the late morning, theo and I drove south to interlaken and drove up into the mountain valleys. the mountains were half-hidden behind curtains of cloud, but we decided to take the cog railway up to the 'top of europe,' the restaurant and observatory at the top of jungfraujoch. we climbed up into the clouds on the north-eastern side of the mountain, and then emerged to a beautiful mostly clear sky on the south-west. the view of the glacier and surrounding mountains was incredible: pictures speak better than words. the whole experience was wonderful, marred only by the fact that I felt I might faint or throw up at any moment: altitude sickness.
the weather in the lowlands never really cleared during my stay, though this morning as I left we could see the mountains from the torriani's veranda. I don't feel that it detracted from my stay, though, and I would love to have an extended visit at some point. as with singapore on an earlier journey, I have a feeling I might just be back in switzerland in the future.