interlude
2002.04.10
unlike my previous episodes, this is not about visiting foreign lands. this is the return, which is after all half of any trip. it is an opportunity for me to share photos of my home with those of you who have not had a chance to visit california.
it took me a while to settle in once I got home. I kept feeling as though there was someplace I had to be going, someplace to visit. I did spend some time walking around and taking photos, but I also felt like I should get back into the swing of things and (gasp) get a job. with what was left of my travel money, I bought a nice new apple Cube. (they discontinued the model a month later, but it is one of the best machines I have ever owned. I love it.)
having the tool, though, it was really quite hard to find work. after a settling-in period (read, sleeping and partying), I re-wrote my resume and scanned the job offerings daily. I usually applied to one or two things a day, following up with phone calls for promising/exciting jobs. the work well was pretty dry, though. I didn't worry about it too much: my 'new roommate' jennifer was also unemployed at the time, and we had a daily coffee ritual.
jennifer is girlfriend to my college-and-current roommate tom. they met while I was living in singapore. she doesn't think that she counts as a roommate, since she has her own apartment. but our place has DSL, and tom is a net addict, so they effectively live there. perhaps jennifer's desire to maintain her separation from the 2660 community will be mollified by me offering concrete proof that she and tom are indeed dating:
home, by the way, is my parents' house in san francisco... yes, yes, I am 30 and living at home. so is my sister and her boyfriend. it is an interesting situation: sometimes maddening, but always something happening.
I would go into some detail of my own dating life, but... these things, once committed to writing, have a way of coming back at inconvenient times. it is safest to focus on things that are firmly in the past. one such that had been weighing heavily on me while I travelled was a faltering relationship with my friend penny in san francisco. given my move to singapore, our timing had been bad and she was fed up with waiting for me to figure it all out. when I returned, it was clear that things were over between us: it was frustrating and I was a little bitter about it, but I just don't have the right personality to focus on failures. in the end, I got over it, and she got over it, and the story moves on...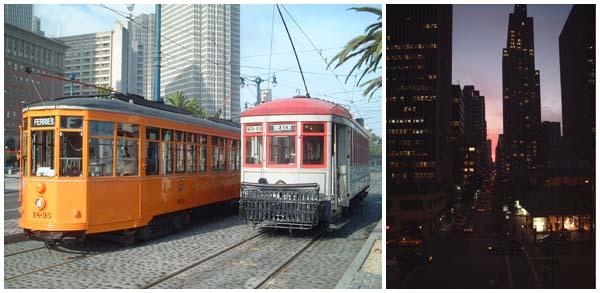 finally I got some contract work through my tom's boss clifton, doing back-end programming from home. it helped me pay off the computer and bring in a bit of income, but the schedule was pretty frustrating. through this position, however, I was introduced to Ask Jeeves, the "we're not in the search market" search company. I was very, very happy to get a regular job; and I have been more or less happily employed in the Jeeves QA department since. the people here are really wonderful; the development process is going through 'growing pains' as the company learns that packaged software needs to be more complete at release than web services.
in the summer and early fall months, I took several short trips within california. tom and I went fishing with his boss clifton. the river was beautiful but I am just not a fisherman. I don't see the appeal of spending hours being gently pushed downstream by the current, and I don't like fish. I also spent some time at our family house on the central coast, built by my grandfather. nearby, we visited the Heart Castle.
I also took a few trips up north into the hills. there is a hillside farm, Camp and Sons, about 4 hours north of san francisco: on summer weekends, groups of up to 150 or so can rent out the premises and have all night dance parties. I am sure the clothing-optional thing would not appeal to all (some people look much better in clothes), but the grounds themselves are beautiful: a great swimming hole, wood-fired hot tubs, a dance floor with a disco ball hanging from a huge oak, orchards and fruit arbors to walk in. kind of hippy meets hipster.

overall, it was really fun to be back in san francisco, especially during the warm months. I spent some time 'playing tourist' at home, taking photos. it was also great to return to the best cat in the world, tiberius.