pacific standard time
2002.10.15-2002.11.05
I very much underestimated how much time I would spend driving on my cross country trip. it is like a full time job, especially since I like to stop and take photos, and prefer the less-direct-but-scenic routes. but I am not too worried about waiting six weeks for my first trip update: many people have said to me that it feels as though I only just left san francisco.
first, the back story: at the end of the summer, the company I was working for ran out of money to pay me. I had realized that this was a possibility, so I'd saved up a bit of money and could take my time to find the right job. on a family trip to wyoming, my father suggested that I might use this as an opportunity to get out and see america, to balance out my overseas travels.
three weeks later I set out in a borrowed car filled with my creature comforts. the destination of the first leg of my trip was maryland, for my cousin's mid-october wedding. I drafted and dismissed a few versions of my three week itinerary, finally settling on a far northern route with some sightseeing in the canadian rockies. whenever possible, I would stay with friends and family.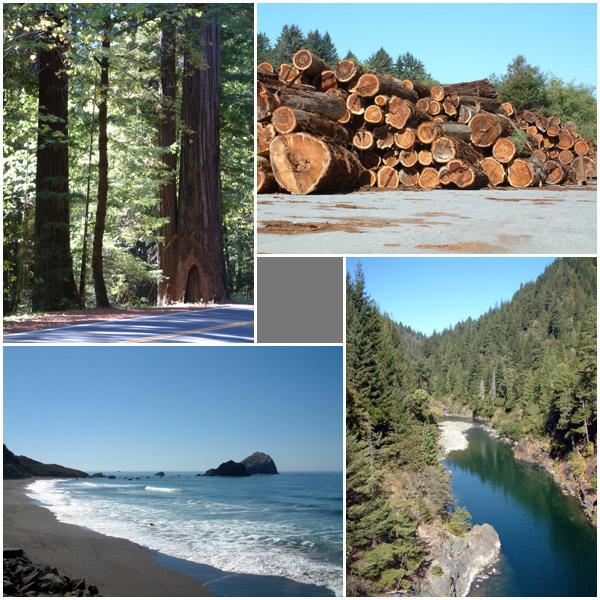 on my first day, I didn't even make it out of california. I drove north along 101 into the redwoods, and met up with my brother james who was on a weekend motorcycle trip. we shared a hotel with his friend mike in willow creek, inland from eureka, and on the following morning I returned to the coast over some back roads, seeing my first sizeable wild animal--a coyote--along the way. I cut inland near the oregon border, and drove northeast along the smith river. the tall groves of redwoods gave way to smaller evergreens mixed with oak, and finally to river-crossed grasslands as I rejoined the interstate.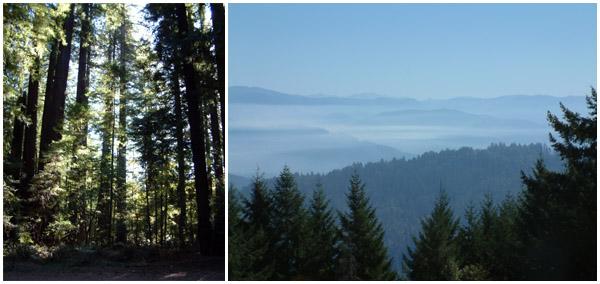 I spent the night with my sister mari, in the unincorporated outskirts near eugene. within five minutes of being there her dogs and horses had slobbered all over my clothes. my nephews john and doug and many of their friends were all around for dinner, like my home when I was in high-school. some of mari's friends also showed up en route from canada to a concert, and one of them in particular did not seem to be able to utter two sentances in a row unless one of them referred somehow to jimmy buffett. I had no idea until then what a parrothead is: but now I've met the real deal.
the next morning's drive to lake oswego, a suburb of portland, was very quick and gave me the opportunity to catch up on my email (two whole days without!). in the evening my friend greg and I took a nice bike ride around his neighborhood: it is very convenient to be travelling with my little collapsable brompton bike in the trunk. shoutouts to my friend erin for originally suggesting I buy one. with greg's wife stephanie, we had dinner and dessert in portland: I really like that town. many of the buildings are old but not decrepit, and it seems like a pretty big city compressed into a much smaller area.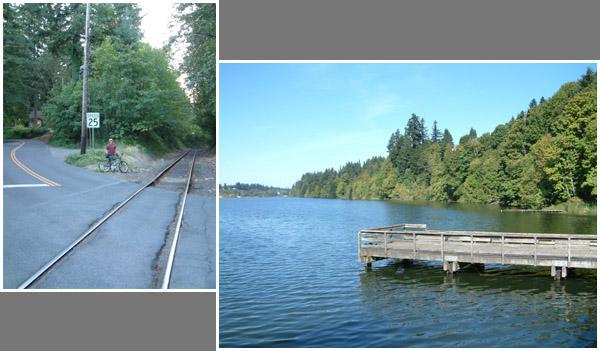 it was another short drive from portland to seattle the next day. on the way through olympia, the freeway curves around a hill and one can see just the top of the state capital building peeking above the trees in an adjoining park. a perfect place for a noontime siesta, once I managed to get to it.
I spent the afternoon in seattle at a pub with my friend marcus. he moved up from san francisco not long back with his girlfriend aynne, and have established something of a zoo in their house: a puppy and four cats. marcus doesn't understand why it was such a big deal when I discovered that they are now married. he does know me well enough, though, to have broken it to me gently that they will both soon be working for microsoft.
I was also able to fight my way through the seattle traffic for dinner with a friend of the family who was also my kindergarten teacher. she did me the questionable favor of digging up a letter I had written when I was young which I ended with "cheerio + faretheewell," obviously deep in my oliver twist stage. she claims to have other such pieces of history saved, and so has ensured her anonymity in this report.
from seattle, I headed across the border to visit some friends in vancouver. I had first met cal and eden in the highlands of malaysia, and they had subsequently visited me in san francisco. they gave me a bedroom and made it very clear that just passing through town was unacceptable: stay, they said, so I did.
I loved vancouver. it feels similar to san francisco: roughly the same ethnic mix, and a perceptible culture of tolerance. while I was there, the city's homeless population were lobbying to take over a long-unused downtown building, but the area did not feel unsafe. I also had great weather while I was there, sunny and not at all windy. I was able to go on a great bike ride around the edge of the city. cal and eden were excellent hosts, and seemed to run into friends everywhere we went. these friends in turn treated me as a friend: I felt welcomed and comfortable and happy.
I could easily see myself settling in vancouver, if a work opportunity were to present itself. perhaps, though, I will visit again in winter and get a better idea of the weather.
on the 28th of september, one week into my travels, I turned inland and headed east.